1. What I'm Reading: How to Train a Wild Elephant. I am fascinated by this book. Each of the 53 short chapters teaches you to slow down and live more mindfully. One of my resolutions this year was to live more simply. I tend to get caught up in too many things and try to get so much done. I end up stretching myself way too thin and stressing out. I quickly read most of the book (typical), but now want to re-read each lesson with more focus and concentrate on each exercise for a week. Hopefully by this time next year I'll have a much clearer, happier head!
2. What I'm Drinking: Speaking of de-stressing, I found another Yogi tea that I like: Kava Stress Relief. Is this post making me sound like a crazy woman?
I've been drinking a cup of this tea with a tablespoon of apple cider vinegar and honey.
3. Recipes I'm Bookmarking: Not-Too-Virtuous Salad with Caramelized Apple Vinaigrette. I need you all to listen to me: making your own salad dressing is worth the effort. It usually only takes a few ingredients and most recipes are so much healthier than bottled dressings. Some of the ingredient lists on those things are downright scary. Know what you're eating, people!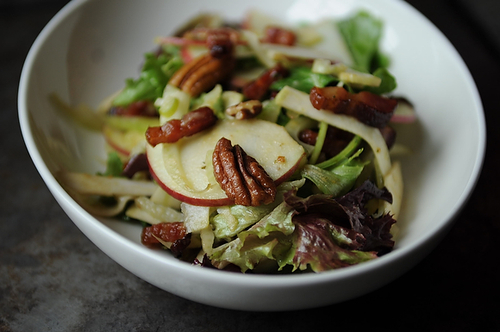 4. What I'm Listening to: I hope you want to dance this weekend. Virtually join me and listen in on this song while you're getting ready to go out.
5. GIFs I'm Loving:
WHEN MY FRIENDS TELL ME I'M BEING INAPPROPRIATE
WHEN I LEAVE THE HOUSE AND AMOST FORGET MY PHONE
WHEN I HAVE STORIES FOR MY BESTIES
Happy Friday! Have a wonderful weekend!