Have you been to Next Door in Mt. Pleasant yet? I hope you say yes, and if not, you should say you're going very soon! Last week I connected with the social media reps behind Next Door who graciously invited me in for a dinner review. I had been to Next Door twice for pizza and wine – their fig and and goat cheese pizza is amazing – but never for an actual dinner. On Friday, Amanda and I started our weekend with a phenomenal meal.
In the space that Samos once was, Ben Berryhill and his partner from Red Drum opened up Next Door late last Summer. The restaurant is very open and inviting, but with low lighting that gives it somewhat romantic vibe. Our waitress epitomized what I look for in a perfect server. She was friendly, attentive, very patient, and offered her opinion of the menu items with emotion. When asking her thoughts on specific items, she spoke of them as if recalling fond memories, and not just repeating what we had read on the menu.
While glancing over the menu, Amanda and I each ordered a glass of wine – Malbec for her and a Cabernet/Merlot blend for me. I've had several different wines here and they are all fabulous. Each glass is only $6, which I love; you don't consider the price when choosing and your decision is more focused on a varietal you'll enjoy.
Chef Ben Berryhill suggested we start with a summery appetizer: Chilled Cucumber Melon Soup with Dill Cream and Radish. This cool soup was refreshing and silky smooth from the dill cream. Amanda and I thought the baby spoons were the cutest thing!
I immediately knew I wanted to try the Arancini with Fresh Mozzarella, Tomato Sauce, and Braised Beef. I first discovered arancini in Rome and fell in love with the fried balls of rice, cheese, and meat. Next Door's version is just as delicious – they were warm, crispy, and cheese poured out with each bite. The tomato sauce on the side was sweet and rich – a nice addition to the salty arancini.
The chef also suggested we try a new menu item that was very similar to the only entrée I tried at Samos: Shrimp Saganaki, Heirloom Tomatoes, Feta, Lemon. We loved this!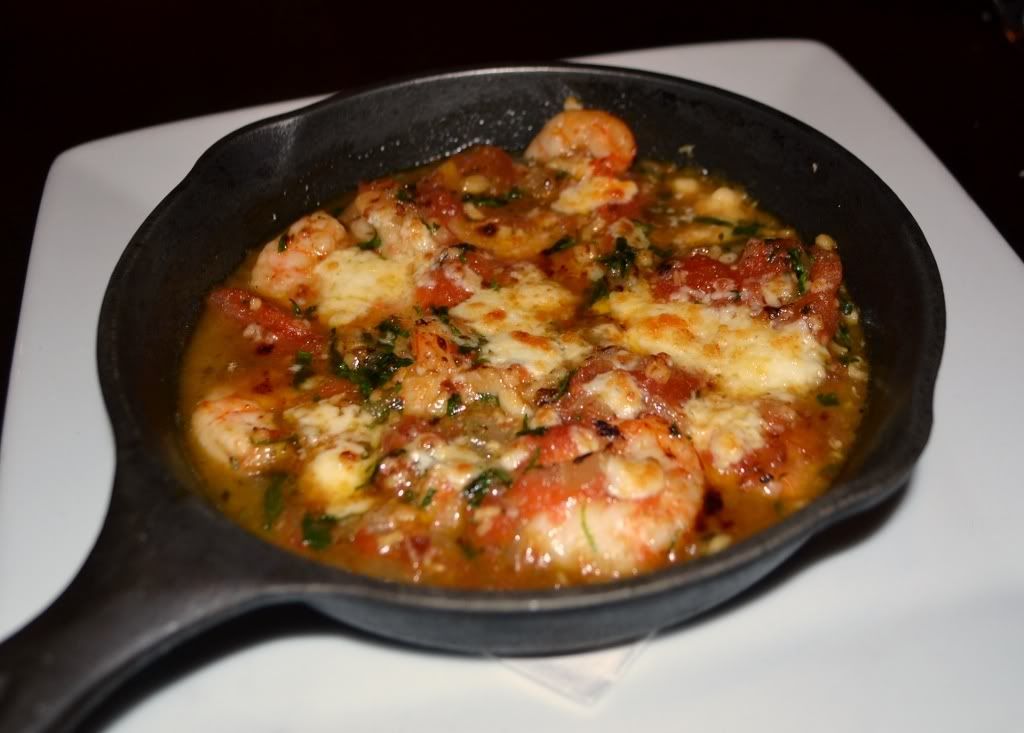 Next, we moved onto pasta. The Raviolo with House Ricotta, Prosciutto, Farm egg, and Sage is the largest piece of pasta I've ever seen. It took up the entire plate! The very delicate raviolo was filled with the perfect amount of ricotta and prosciutto and sat in a rich, buttery sauce.
Finally, it was time to try some main courses. First was the Wild Sockeye Salmon with Corn, Bacon, Charred Okra, Mushrooms, and Heirloom Tomatoes. The salmon was extremely moist and the corn and okra it sat upon gave the entrée a nice crunch.
Amanda had the Scamp Grouper with Jasmine Rice Pilaf, Peas, Asparagus, and a Fine Herb Vin. Her grouper, cooked perfectly, was buttery and sweet.
Don't ask me how we made room for dessert and coffee, but we did. See, we're still smiling.
Smiling about this! Dessert was an Almond Tart with Blueberry Compote and candied Almonds.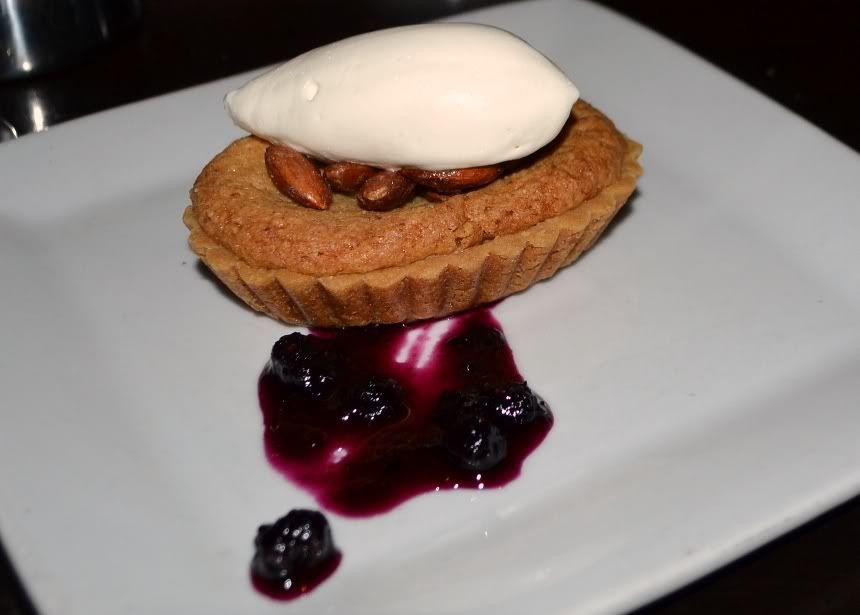 We were just as excited when our server brought out French press coffee. Silly excited.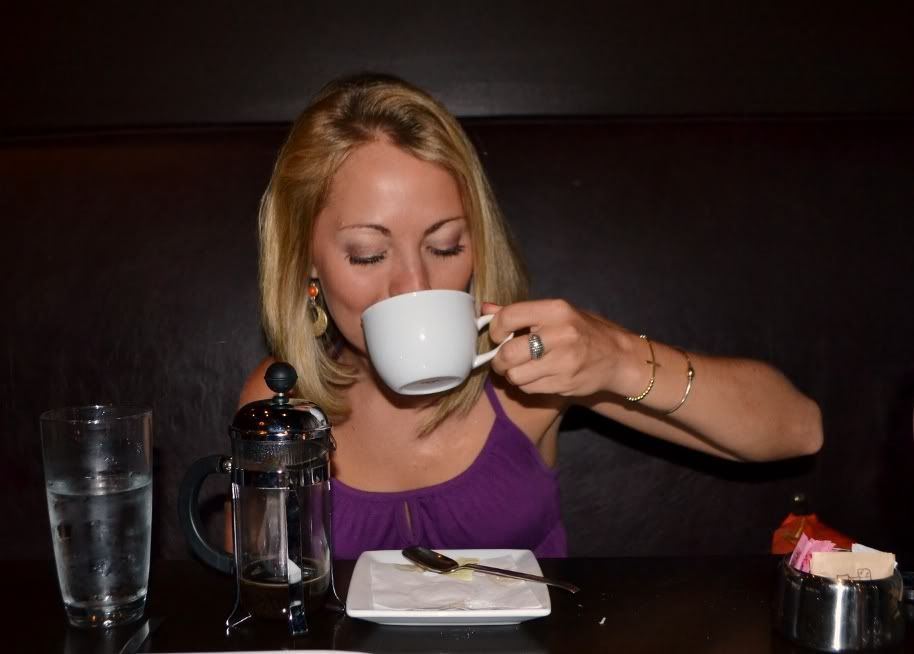 Cheers! It was so good, we both drank our entire press full of coffee . No wonder why we were so bouncy the rest of the evening. French press coffee from Next Door + Trio could make for a very interesting evening.
Next time you're in Mt. Pleasant, be sure to check out Next Door! It's a fabulous place with incredible food. Don't forget to check out their dinner menu beforehand!
Connect with them on:
**Thank you to Jennifer, Chef Ben, Chef Nathan, Lauren, and the rest of the team! It was a pleasure meeting you all and we can't wait to see you soon!**