I love them so much. I really do. Look at all of my subscriptions.
Would you be surprised at all if I told you that I was in a magazine that came out yesterday?
Once a year, Charleston City Paper puts out a bar guide called Swig. A few weeks ago, my friend Cory asked if I'd like to be in a photo for it. My answer was "(an expletive) YES!" It came out yesterday, but I couldn't find one anywhere! This afternoon, my friend Luke sent me a picture of that he had taken on his phone. Within minutes, I snatched up my own copy!
Tada!
There's also this picture on the CCP website. Say hello to Amanda and Sarah!
The photo was taken by the very talented Jonathan Boncek who also has a healthy living blog.
In other magazine news, a couple months ago I was asked to start contributing to Mount Pleasant Magazine.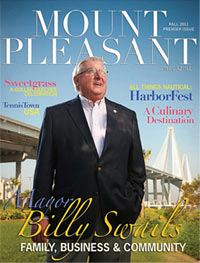 This will be my first paid and printed gig. I just submitted my article (which should explain my lack of blogging this week) and am waiting for the editor's review. I wrote about Wine Tasting and it should come out in the beginning of November. I'll be sure to keep you posted so you locals can pick up a copy!
Finally, in the mail today I received my first issue of a new magazine subscription:
Let's talk about this. The first time I saw this magazine was on the back of my ex boyfriend's toilet. I was extremely concerned as to why this fool would want to be reading about gardening and guns…on the toilet. I picked it up and flipped through a few pages. I would have read more, but really, how much can you read while doing a little tinkle? Not much…unless you've just chugged a 40oz but that's a whole different topic and I'm just getting gross. Over the next couple years, I picked up a few issues here and there, ignoring the magazine's title, but enjoying the content.
I have to admit, it is good. It is interesting. There are yummy recipes. And 14 years of living in the south later (MY ANNY IS TOMORROW!), I can relate. Boom.
Later gators! XO!