The Food. I'm often asked where I get my recipe ideas from. The long answer is "All day I dream about food." (A.D.I.D.A.F.?) The short answer is magazines. I currently subscribe to ELEVEN magazines, 10 of which are either health or food related. I'm sure this is an abnormal amount to be receiving monthly, but subscriptions prices are much cheaper than buying off the newsstands. Here are the magazines I subscribe to, in the order of how much I love them.
Food Network - tons of recipes from your favorite chefs, both easy and difficult, and fun kitchen products.
Real Simple – ideas for food, home, body, and soul. Lots of tips & tricks for simple living.
Women's Health – tips for getting in shape, exercises, workout gear, and healthy recipes.
Health – very good resource of information!
Fitness – very similar to Women's Health but with less information.
Every Day with Rachael Ray – This magazine made me not hate Rachael Ray anymore. She has some great recipes and this magazine is very fun to read.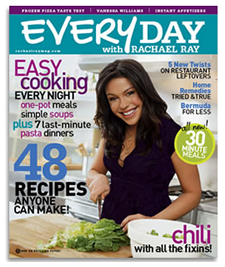 Shape – just like WH and Fitness.
Saveur – highlights authentic cuisines from all over the world. The recipes are pretty intense and a bit unrealistic.
Clean Eating – this magazine is informative, but sometimes the recipes are so "clean" that they're boring and tasteless.
Martha Stewart's Whole Living – I love Martha, but this isn't her best magazine. It's a bit boring.
Food & Wine – fun to read about foods from all over the world, but the recipes are also unrealistic.
Which magazines do you subscribe to? Which are your favorites?
The Fashion. Saving money by purchasing yearly subscriptions means you can splurge in other areas like fashion! I just added another Longchamp Le Pliage to my wardrobe. I went to Gwynn's with the intention of buying a basic black tote that I'd be able to wear year-round. But when I spotted the large the "Palm Green" shade, I could not resist.
And finally, The Funny. My old roomie, Boding, just sent me this picture message : "What the heck? I asked for a wagon on a hill and someone put a tombstone. Someone is getting cut."
Why the heck would Publix think someone would want a tombstone on a birthday cake?!?!