On Sunday morning, Lucy and I did more frolicking around the city in my two favorite parks: Union Square and Washington Square. They're both such open, pretty areas where you can do a lot of people watching. One of the reasons I wanted to go to that area is to stop around NYU for one of these pita pockets I had seen on Gabriela's blog. Gabriela ate these every Wednesday, and I kid you not, even before having one, I began to crave them too.
I was more than excited to find them at Space Market on University Place.
At first I felt crazy shelling out $5 for the Spicy Power-Fu Sandwich, but once I tried it, I didn't care one bit. They are so freaking good. I immediately wanted more and was sad that I couldn't get them in SC.
If you read Gab's blog, you've seen these many times. Gab, honey, I thank you. So much. I should fly back to the city for a few more. ;)
Saturday's shopping adventures included purchasing 3 dresses and a bracelet from Forever 21.
The second dress is more of a lime green or "citron" than yellow as it shows online. And yes, it's the exact same dress as the blue. I really liked it!
That evening, we went to Canyon Road for dinner. I had the Southwestern salad: grilled jumbo gulf shrimp, toasted pumpkin seeds, romaine lettuce, monterey jack, onions, pepper & celery. No picture :( After dinner, we went to too many bars:
The Stanton Social (upstairs, dark, not bad)
Back Room (hidden(ish) bar that served drinks in tea cups. cute, but boring.)
Sons of Essex (cool inside, but drinks sucked)
Sing Sing Karaoke (dead, so we didn't stay)
East Village Tavern (who really cared at this point? ha)
On Monday, Day 4, I broke my vegetarian streak once more at Chipotle. I had salad with romaine lettuce, black beans, grilled chicken, salsa, and cheese. Their ingredients are so fresh and I'm excited a location is opening in Charleston!
Lucy and I were exhausted at this point of the weekend, so we hung out at her apartment for the majority of the day. We got coffee, picked up snacks, giggled about our evenings, and caught up on Real Housewives and watched the season premiere of Bethenny Ever After. This was Lucy's and my favorite show when we lived together. We LOVE her.
If there's one thing I do in life, it's find a husband like Jason. That man is handsome, ridiculously patient, and such a good father. Where the hell do you get those? He even dressed up like a PANDA on Halloween for his family. Oh my.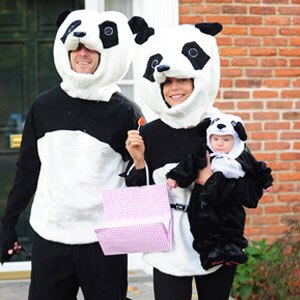 Now for some funnies from NYC.
This mannequin wasn't looking too hot. Lucy said "Um, homegirl got in a bad accident."
Next time I make a mess, I definitely want to clean up with these.
Lucy has a store!!
I have a store!!
Needless to say, I had tons of fun in NYC and was not ready to leave on Tuesday morning. I want to go back right now! Or just move there.
As I said yesterday, if you read all this you are ridiculous. And I love you. xo!!
HAPPY WEEKEND!!