Last Friday, Rob and I took a much-needed lunch break at Vespa Pizzeria. Vespa is right on Daniel Island where we work, so within just a few minutes, we had escaped our daily duties and were indulging in cold brews. Cheers!
Rob ordered a beer that tasted like coffee. For such a dark beer, I thought it was pretty good.
I ordered a much lighter, peach-flavored beer called "Son of a Peach" by RJ Rockers Brewing Co. This was a perfect mid-day brewski. I could definitely enjoy a few more of these this Summer.
Please note the dude in the background. He's so spread-eagle, it almost looks uncomfortable. Not to mention disgusting.
Vespa was running a lunch special that I couldn't refuse: $10 for a small salad and pizza. I was relieved by this offer, as I wasn't sure if I wanted one of the highly recommended salads or a pizza.
I chose the Arugula & Beets salad with balsamic vinaigrette, goat cheese and candied walnuts. This was my first beet salad of the day. I ended up having another goat cheese and beet salad at Lauren's birthday dinner. Cannot resist a beet!
I also had the Margherita Pizza with tomato, mozzarella, basil, and EVOO. Rob said the first time he came here, he asked the server what "evoo" was. Hehe. My pizza was really good – the crust was thin and charred in some spots (love!) with lots of bubbles. There wasn't a lot of sauce, which I need, so I asked for some on the side. I was a happy girl. Or was that the beer kicking in?
Rob ordered a standard Pepperoni Pizza with tomato sauce, mozzarella and parmesan. We traded pieces, and his was really good too.
Both our pizzas were $10, which wasn't bad, but those beers were $7 a piece. Eek!! No happy hour specials at lunch I guess. That could be to prevent stressed out individuals from getting trashed at lunch I guess?
After lunch, all I could do was laugh about this e-card that I found: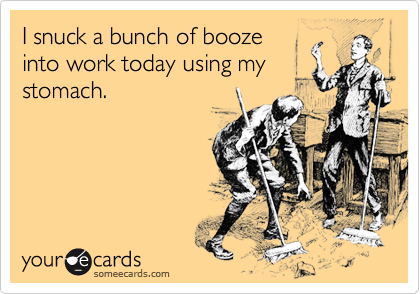 I will definitely be back to Vespa soon. Our server was super friendly and the atmosphere is very casual and cool. Plus, you can watch the guys cook your pizza! That's always entertaining for me. Along with wood-fired pizza, their menu also has appetizers, sandwiches, and pastas. And, if you're a Blackbaud employee, you get a 10% discount on food.
Lately, Lucy and I have been obsessively reading this Bits of Truth blog that my coworker introduced me to. It's full of truthful quotes that will make you chuckle, smile, or just say ahhh. This is my current favorite:
I always try to find the good in each person and make friends every where I go. I rarely hold grudges and genuinely like people. I just don't see the point of disliking people for silly reasons – you just never know who will become a close friend. Never, ever, judge.
I hope everyone's week is going well! I'm already exhausted by my social schedule this week:
Tuesday: Guy Fieri show with Joe
Wednesday: Happy Hour with coworkers/friends at Leaf
Thursday: Frickle testing/dinner with Amanda & Jess
Friday: Riverdogs game with Margaret, Mariah, & Lucy (box tickets, yay!)
Saturday: beach or boating, please!
What's your favorite quote or quote site?
Have you ever become friends with someone out of your social circle? Or someone you never thought you'd be friends with? Does making friends come easily to you, or do you like to stay in a close-knit group?